Summary
A cross-disciplinary group of faculty is proposing a Mason Autonomous Vehicle Systems (MAVS) Lab as a George Mason University research initiative that would pilot driverless electric shuttles at Mason and in Fairfax City.
MAVS is proposing a three phase development strategy.
Phase I-  Pilot a driverless electric shuttle system between Mason and downtown Fairfax City on University Drive;
Phase II- Expand the pilot to the West Campus shuttle including other on demand routes and extending the Fairfax route to Route 50; and
Phase III- Replace the CUE bus system and Mason to Metro Shuttle with SASSy shuttles and guidance systems for driver controlled cars and trucks. 
Information
Mason Transportation  Mason Fairfax Campus Plans
Fairfax City Transportation Division  Two year transportation program  CUE Bus System
SASSy email:  scott@onair.cc (Scott Joy)
MAVS email: cdkan@gmu.edu (Steve Kan)
Phase I- University Drive Shuttle
This shuttle service from Sager Ave to Merten Hall would employ driverless electric vehicles and could connect with the West Campus shuttles. We recommend using the Local Motors "Olli" vehicle described below. Olli shuttles could be 3D printed by Mason students. Service might be free to everyone given the potential economic benefit to downtown Fairfax businesses.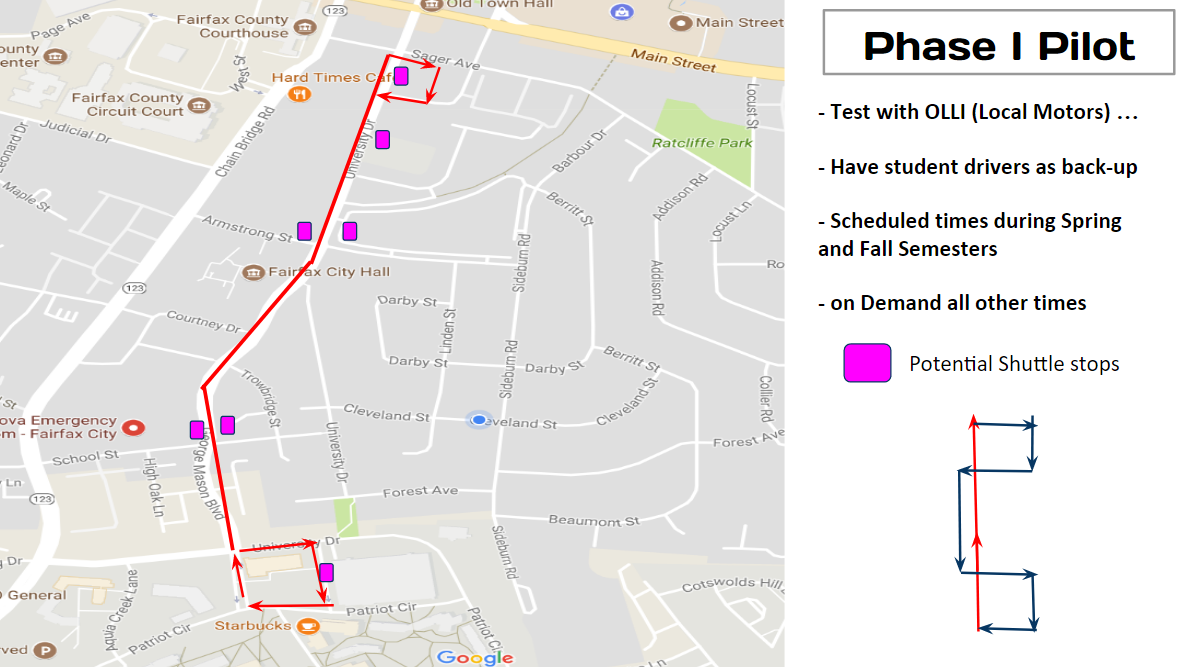 Phase II- West Campus Shuttle
The shuttle runs between West Campus, Field House, The RAC, Mason Pond Dr., Presidents Park, Masonvale (Patriot Cir.& Staffordshire Ln) and Rappahannock River Ln. Shelter #3.
Our recommendation is to replace the West Campus  Shuttle with 15 seater Driverless Electric Shuttles during peak times (before and after classes). Five seater shuttles could be accessed on demand at non-peak times in addition to every 15 minutes.
The 15 seat shuttle could also use other Fairfax campus roads like Rivanna River Way and Aquia Lane.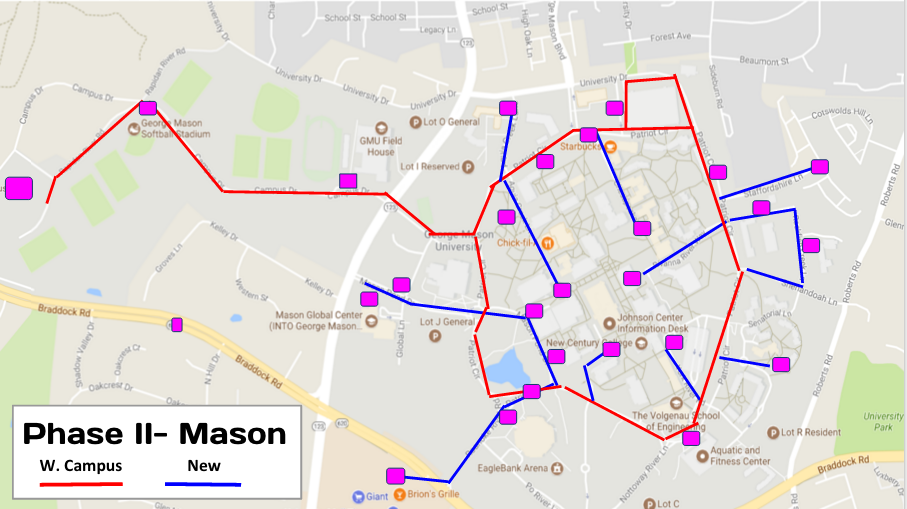 Phase III- CUE Bus Shuttles
Replace the CUE Buses (and Mason Shuttles) with Driverless Electric Shuttles. Add inner loop within downtown. Can have more shuttles than CUE buses and could have a shuttle that is dedicated to Fairfax Boulevard and Main Street corridors.
Could also add a shuttle to Burke Station VRE.
Two Startups
A number of companies are developing and are starting to deploy Driverless Electric Shuttles. The most relevant example is University of Michigan's recent announcement to begin testing two Navya vehicles. Below is a summary of the French company Navya and Local Motors, a US based company with its national marketing center at National Harbor.
Navya
Website: navya.tech/
Navya is a startup out of France that makes driverless shuttles. Navya's flagship vehicle, the Arma, was in development for 10 years before it was launched in October 2015. The Arma is completely electric and autonomous and can carry up to 15 passengers and drive up to 45 km/hour (28 miles per hour). The company already has vehicles on the road in Lyon in a public transportation project, along with other unnamed strategic agreements, and it also has plans to manufacture and roll them out also in the Middle East in partnership with Group8. From Tech Crunch Oct. 11, 2016.
Quotes from articles on the University of Michigan deployment:
From Forbes, "University Of Michigan Will Get First Autonomous Shuttles In Fall 2017
Beginning in fall 2017, students and staff at the University of Michigan will have a new way of getting around at least part of the sprawling campus, a pair of driverless shuttle vans. Two Navya Arma shuttles will be operated by the Mcity autonomous and connected vehicle research center. The shuttles will give researchers an opportunity to evaluate how autonomous vehicles work in a real world environment and how people interact with this new type of vehicle.
From Verge, "This adorable driverless bus will soon be making stops at the University of Michigan"
The university plans to deploy two of the shuttles, manufactured by French startup Navya, to service a two-mile route between the Lurie Engineering Center and the North Campus Research Complex on Plymouth Road. The shuttle can carry a maximum of 15 passengers, and lacks a steering wheel or pedals. The vehicles are being deployed in partnership with Mcity, the university's 32-acre testing facility automakers and tech startups often test their self-driving cars.
From Tech Crunch, "Navya driverless shuttles to begin ferrying University of Michigan students this fall"
The Navya's Arma shuttles used in this deployment are equipped with GPS, cameras, Wi-Fi and LiDAR, and they'll be tested not only on how they operate, but also on how passengers react to them and use them, as well as how others sharing the roads, including pedestrians and cyclists, react to their presence. They'll operate during regular business hours at the outset, and be available for free, with plans to expand how long they run each day should everything go well.
Local Motors

Website: localmotors.com
Local Motors is an American motor vehicle manufacturing company focused on low-volume manufacturing of open-source motor vehicle designs using multiple microfactories. It was founded in 2007 with headquarters in Phoenix, AZ with its marketing center at National Harbor, MD. The company develops vehicles using 3D Printing and utilizes vehicle designs provided by the online community. In 2016, the company introduced an autonomous electric-powered shuttle named Olli. The first use of Olli vehicles is planned for Washington DC. For more information, see Wikipedia entry.
IBM Watson, the company's AI platform, is powering services in Olli. Olli will be using a special version of Watson aimed at automotive applications and it is not fully powering the car's self-driving features. Instead it's aimed at "improving the passenger experience," according to a statement from IBM … see IBM's Watson makes a move into self-driving cars.
Videos
Test Track for the Future of Autonomous Vehicles
Published on May 5, 2017 | Fairfax County Government 
Fairfax County is home to more than 70 miles of smart roads, and it's where top researchers come to road test the latest in connected and driverless technology in real world conditions. The county is working to become an innovation hub for this technology that will produce the greatest change since the invention of the Model T.
Future of Autonomous Vehicles Panel Discussion
Published on May 5, 2017 | Fairfax County Government

On May 3, 2017, Fairfax County convened top experts, including researchers from the Virginia Department of Transportation, to discus the future of connected and driverless cars.
There are more than 70 miles of smart roads within the county where connected and automated cars are being road tested in real world conditions.